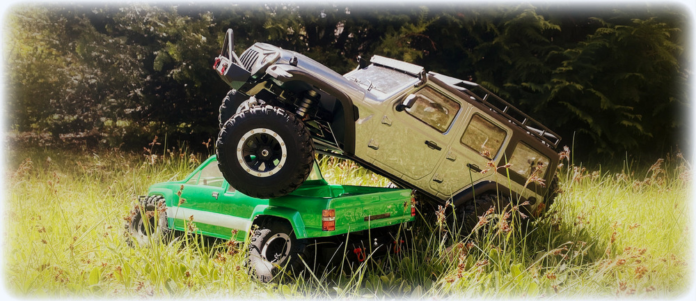 The big brother of the SHERPAS sets out and obstacles should be no problem for this 1:8 colossus!
Highlights:
Programmable 80A Hobbywing speed controller
2-speed transmission
Locking front & rear differentials (independently)
Lightning front/rear
Portal axes
25kg Steering servo with metal gears
2-3S* LiPo suitable (*note the size of the battery box)
+30km/h* (*in 3S mode)
…and a lot more !
The Yucatan is a high-end "Ready-to-Run" crawler in scale 1:8 which is based on the successful ABSIMA CR3.4 chassis. All the features that made its smaller brothers in 1/10th scale (Sherpa, Khamba) so successful have been adopted. Due to the 1:8 chassis, even more extreme maneuvers are possible and due to the size of the body, details could be emphasized even better, which give the vehicle a beautiful driving image.
In addition, there is an 80A speed controller from Hobbywing which is fully programmable (optional program box 2110060). In combination with the larger and more powerful 775 motor, the vehicle reaches a top speed of over 30km/h in 3S LiPo operation.Thus, not only the obstacle, but also the way there is the goal.
Available in 3 colors: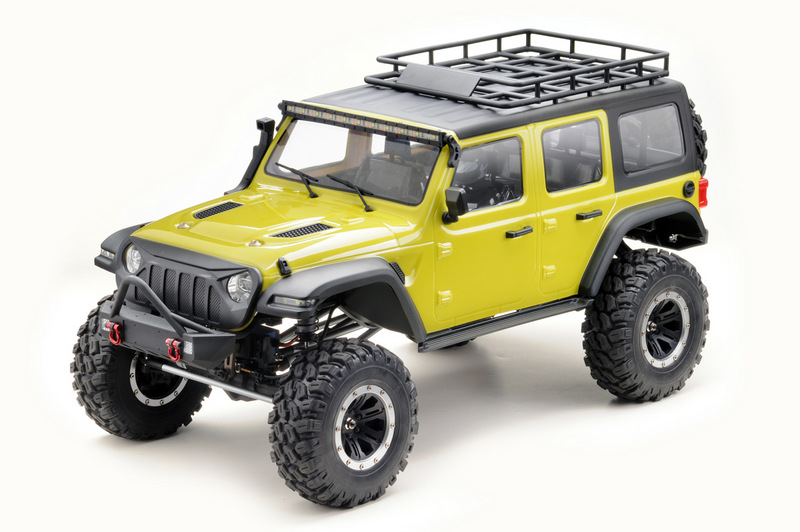 Lime-Green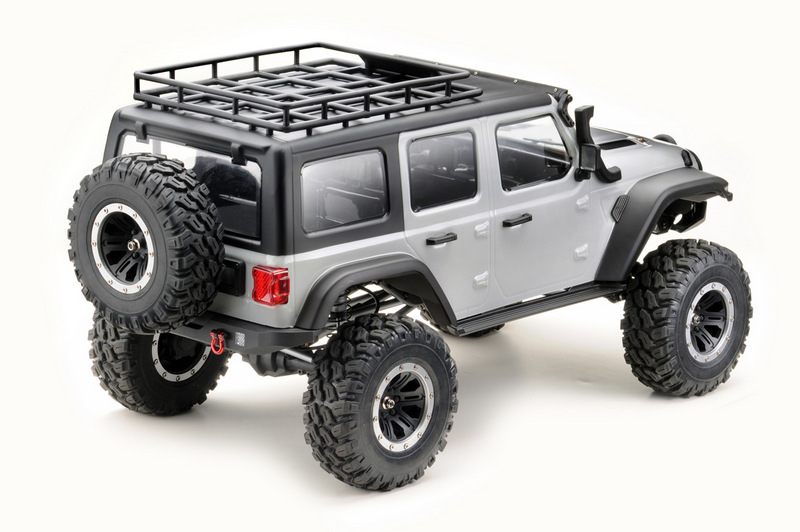 Nardo-Grey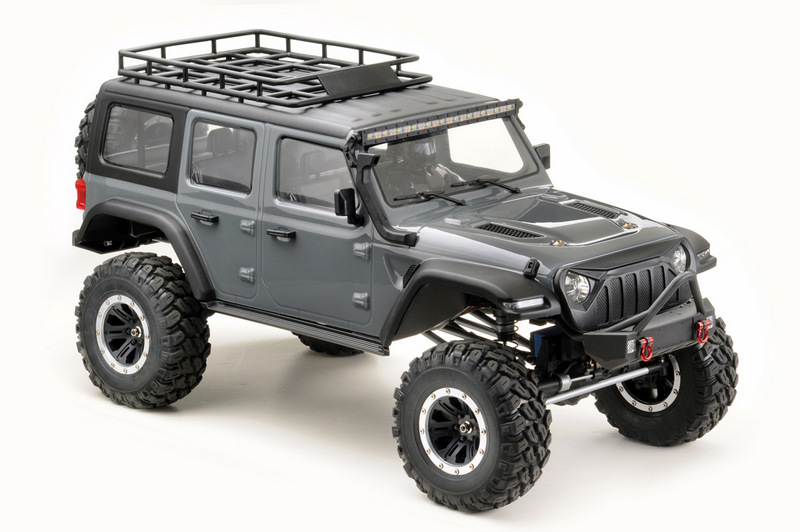 Steel-Grey
CAR SPECS:
Length: 635mm
Width: 290mm
Height: 300mm
Ground clearance: 95mm
Wheel base: 370mm
Gewicht: 4200g
Approach angle: 65°
Departure angle: 48°
Steering angle: 43°
Wheels: 2.2″ Beadlock-Wheels with 12mm Hex-Hub
Tires: 50x132mm including foam inlay
Shock absorber length: 100mm
Viscosity shock absorber oil: 500cps
Transmission ratio: 2-speed (Hi 1/15.1 / Lo 1/37.1), remote controlled
Gears: Modul 0.8/32dp – Pinion 16Z / Main gear 44T
Drive system: 4WD
ELEKTRONIK SPECS:
Speed controller (ESC): Hobbywing 80A brushed/waterproof with T-plug, programmable, BEC 6V@4A, 2S-3S* LiPo suitable
Motor: 775 "high-torque" brushed motor
Steering Servo: 25kg metal gear, digital & waterproof
Mini Servos: 0,9kg, waterproof
Radio System: 6-channel 2.4GHz radio (4.8 – 12.0V LiPo-suitable)
SCOPE OF DELIVERY:
Absima CR1.8 YUCATAN RTR
6-channel 2.4GHz radio systemm
Sticker sheet
Stabilizer Set front/rear
Cross wrench and allen keys
Manual (DE/EN/FR)
MORE INFORMATION YOU WILL FIND IN OUR SHOP!