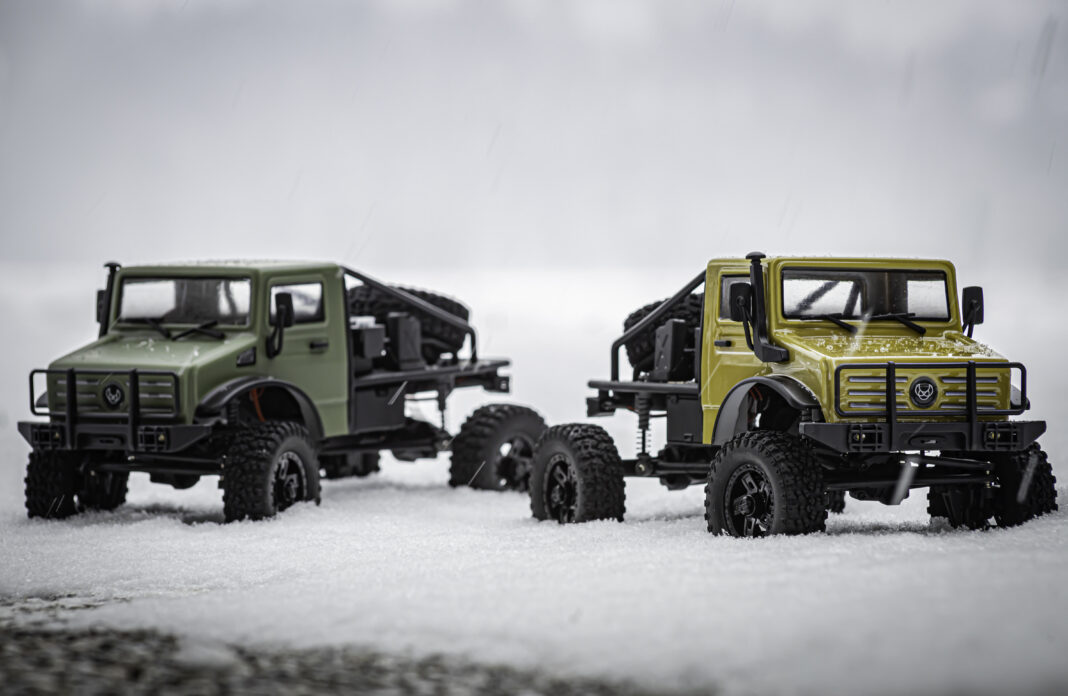 Our 1:18 crawler in the PRO version can do more than some of its big brothers. Especially with the "Performance Upgrade" like portal axles front and rear, metal gearbox made of tool steel, 1.2″ tires and a modified drive ratio for even more torque it becomes a real crawler fun machine.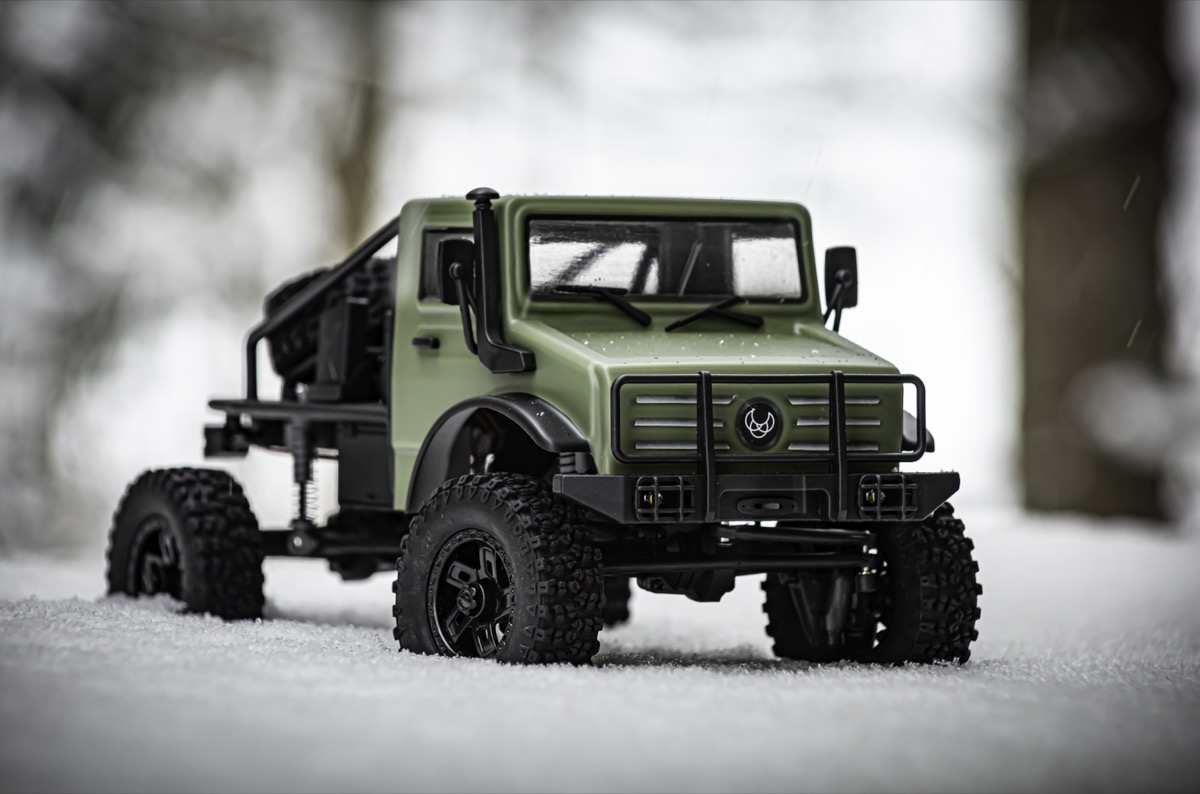 You do not need much space and the "Playground" is built quickly. For example, just throw a few pillows or on the ground and the fun can begin! The proportional radio remote control makes the finest driving maneuvers possible and control the little crawler over even the most complicated-looking obstacles.


HIGHLIGHTS:
– Portal axles front & rear
– Metal gears on front and rear axles
– 2.4GHz transmitter/receiver unit
– Lighting system operated from the transmitter
– Oversize 1.2″ AT tires with internal bead lock system
– Chassis mounted 1kg steering servo with panhard bar
– PPX4 water resistant electronics
– Metal chassis frame
– Painted 1.2mm Lexan body
– Tight turning circle of 80cm
– Driving time of up to 45 minutes
– Steering angle of up to 45°
– Ultimate ground clearance due to portal axles and 1.2″ tires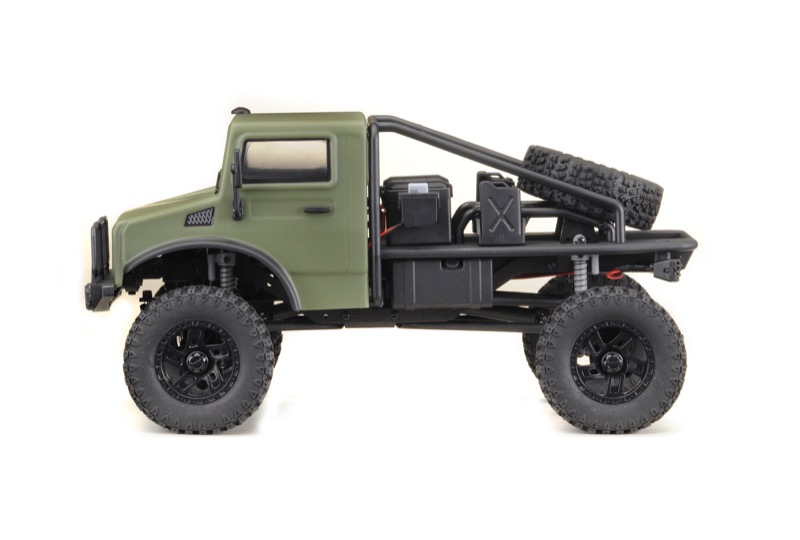 Due to its design, the "Trail Hunter" chassis probably has the highest ground clearance that can currently be found on the market. In addition, there is the extreme approach and departure angle of 67.4° and 80.5° respectively.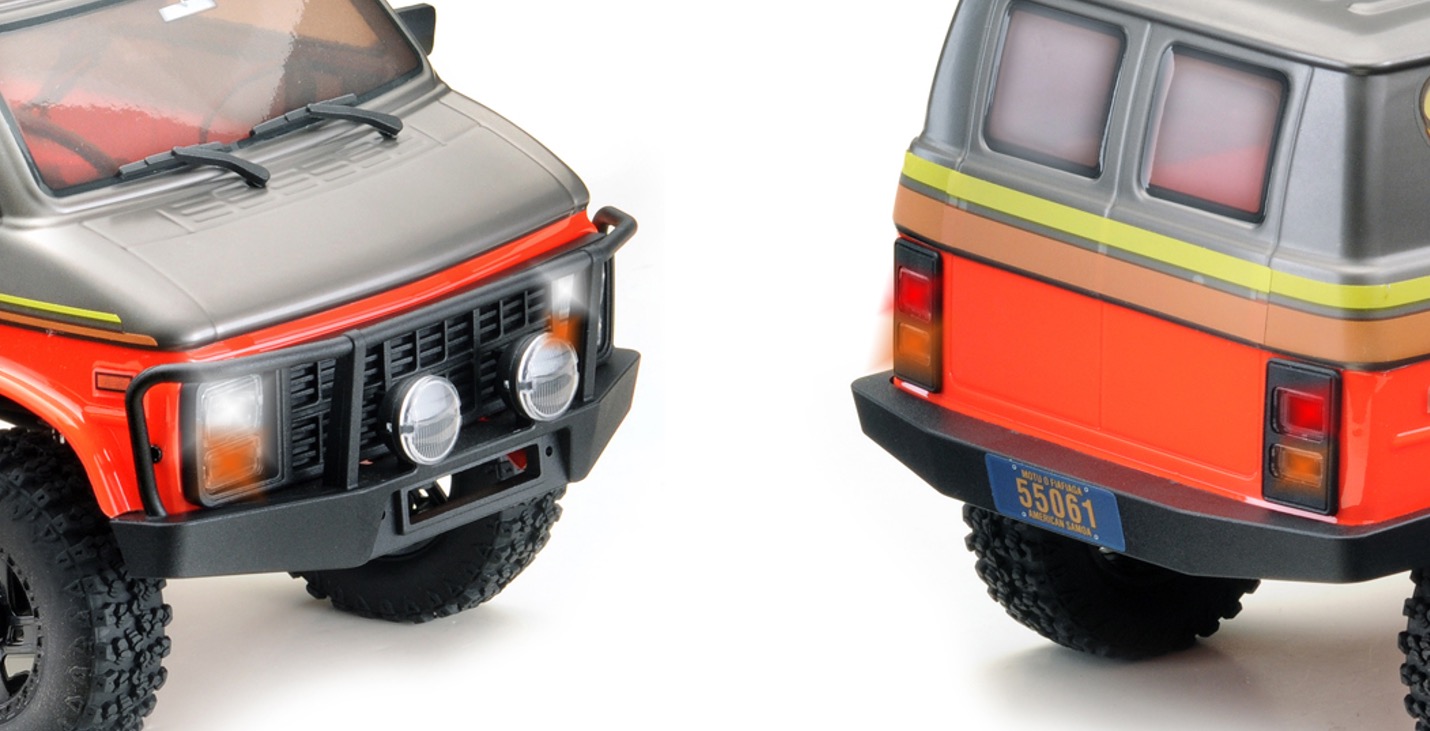 The "Rock Van" was equipped with fully functional lighting – front and rear consisting of low beam, high beam, tail light and hazard warning lights. Operation is done through the 3rd channel on the transmitter.

Both vehicle types feature the newly developed portal axles with new drive ratios. This realizes a buttery smooth response at low speed and even more torque. With the new axle, up to 45° steering angle is also achieved. The gearbox in the axles is made of tool steel. CVD drive shafts are installed on the front axle.
SPECS:
– Scale: 1:18
– 4WD (All Wheel Drive)
– 2.4GHz remote control system
– High Torque gears, reduction ratio 104:1
– 55T / 030 Brushed Motor
– Fully locked differentials (front & rear)
– Telescopic UJ cardan shafts
– Metal chassis frame
– Drag/Mountain Brake (prevents rolling on hills)
– Digital Proportional Control for sensitive driving maneuvers
– LED lighting
– Scale body with lots of attachments
– Bead lock rims with super soft AT tires
– Waterproof 1kg mini steering servo
– 2-in-1 speed controller/receiver unit
– Driving time: approx. 45 minutes
TECHNICAL DETAILS:
Trail Hunter

Rock Van

available from Middle of Februar 2023
MORE INFORMATIONEN YOU WILL FIND IN OUR SHOP