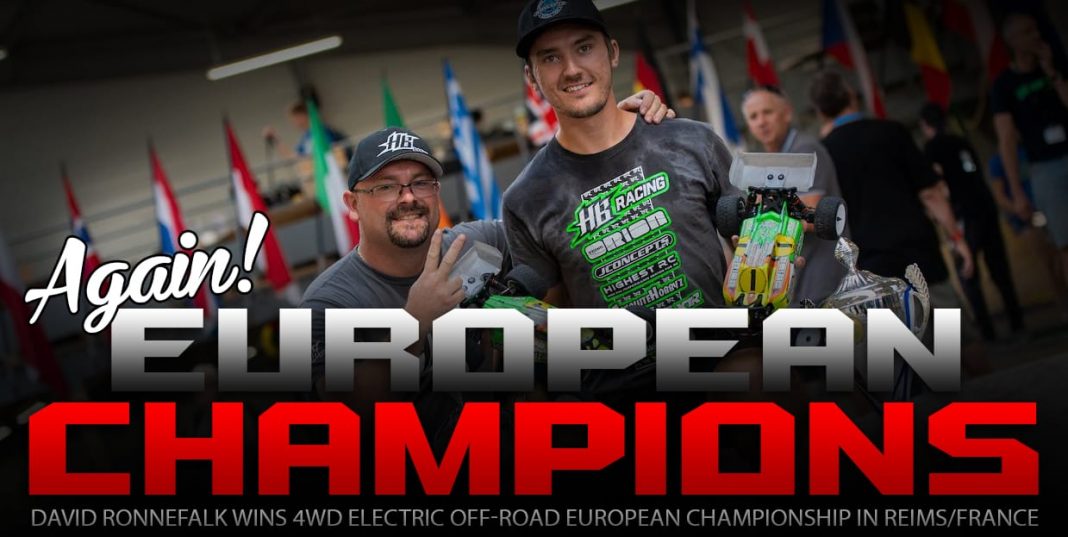 HB Racing is very proud to announce that David Ronnefalk won the 4wd European Championship title in Reims/France today, just a few days after winning the 2wd title! This is the sixth Euros title for the Swedish ace! Just one month after the release of the brand new D418 4wd competition buggy – and the victory of Thomas Musso at the French National Championship – this is a perfect debut for the new car on the international racing scene!
The race in Reims today was a show of dominance from David Ronnefalk. After taking TQ position, the newly crowned 2wd European Champion won a main number one and two with an advance of 2 seconds in the first and 4 seconds in the second final. Compared to the 2wd title this looked like a walk!
Many congratulations go to David Ronnefalk and his mechanic and mentor Adrien Bertin for this incredible result!
1. David Ronnefalk – S – HB Racing D418
2. Jörn Neumann – D
3. Michal Orlowski – PL
4. Jean-Pierrick Sartel – FR
5. Bruno Coelho – PT
6. Lee Martin – GB
7. Joona Haatanen – FIN
8. Renaud Savoya – FR
9. Davide Ongaro – IT
10. Daniel Kobbevik – NO