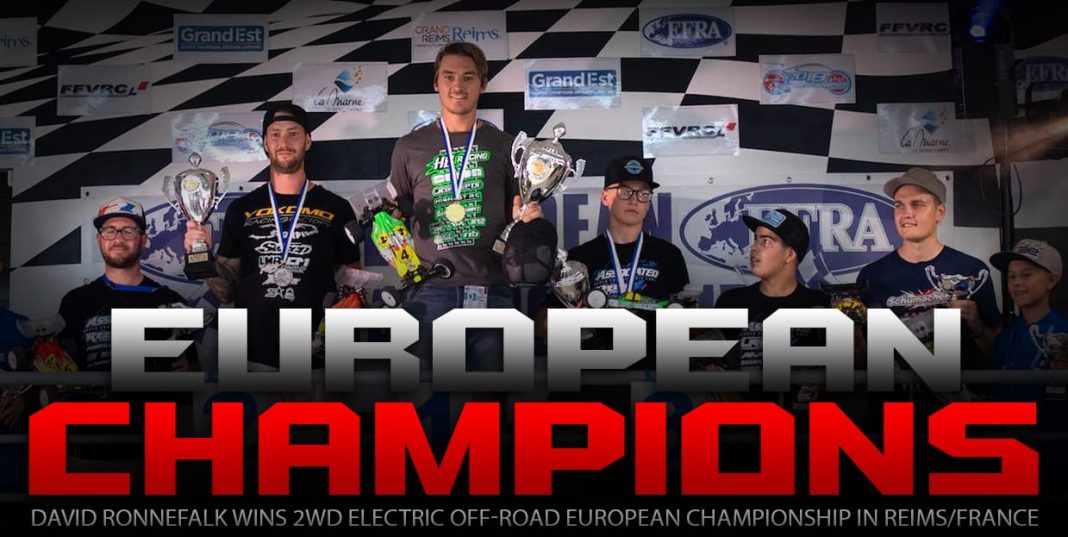 The final day of the 2018 EFRA 1/10th Electric Buggy European Championship was held in Reims/France yesterday. We are proud to announce that Team Orion's David Ronnefalk took home the victory in the 2wd class in front of Lee Martin and Joanna Haatanen.
Starting from 4th place on the grid, David placed himself on third position in the first a main on the slippery and demanding race track. Only pole setter Michal Orlowski and Joanna Haatanen were in front of the Swedish ace.
In a main number two, Haatanen and Orlowski both made an early mistake while Ronnefalk and Martin were battling for victory in an extremely hot fight. It was David who won the battle with a lead of 0.114 seconds.
Now all came down to the third final to decide who was the European Champion 2018! Again Haatanen and Orlowski were in early troubles which allowed Lee and David to take the lead. While being on second position David knew it was enough to win his next European Championship title. With 3 tenths of a second Martin won the race in front of David and Neil Cragg.
David Ronnefalk crowned himself European Champion 2018 using the full Team Orion power equipment. Congratulations!
ESC: ORI65144 HMX 10 Modified Bundle with iOS Dongle
Motor: ORI28382 Vortex Ultimate Modified 540 7.5T
Battery: ORI14513 Ultimate Graphene Lipo Shorty 5500 7.4V 120C
Charger: ORI30296 Advantage Touch Duo V-Max 2x100W (EU Plug)
Final results:
David Ronnefalk
Lee Martin
Joona Haatanen
Neil Cragg
Renaud Savoya
Michal Orlowski
Bruno Coelho
Davide Ongaro
Jörn Neumann
Clement Boda